Liquid Roofing Systems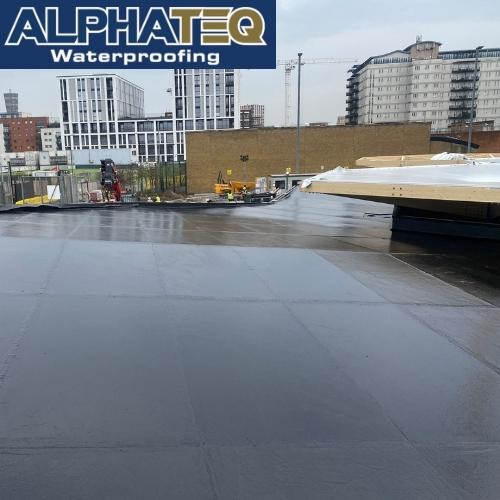 Alphateq Waterproofing insist on only supplying quality products into the market. Sub standard products if used cause a bad reputation to the industry overall. It is therefore vital that certain criteria are considered, fully understood, and implemented. Alphateq Waterproofing has a keen focus on all the waterproofing systems available which we spend time and effort testing and vetting to ensure they meet the high standards needed and are able to meet today's customers' requirements, whilst complying with the latest technologies and standards. Alphateq Waterproofing systems are used in new buildings and refurbishments. Many leading specialist contractors lend their support to the sophisticated products we supply. A great number of customers in put their trust in our waterproofing and coating systems.
There are many options to consider when choosing a liquid waterproofing membrane. A good starting point should be that it holds either a ETAG or BBA accreditation. This ensures a good starting point as it means the system has been properly tested. There are some systems that do not hold these accreditations and they may indeed still be perfectly fit for purpose. But on large projects, especially new build, often they are a standard requirement. Therefore, as far as liquids are concerned, it is suggested that only systems that hold a current BBA Certification or ETAs should be specified. Alphateq's main liquid systems hold these accreditations.
The reinforcement debate is often mentioned. Quite simply there can be a difference of opinion that is held by various systems companies. As long as an approved standard like a BBA or ETAG is associated with the system installed in this installation format this will be fine. Although this would only apply to the field area, all details and change of direction would be reinforced.
Solvent content is a big indicator of system suitability. Overall heavy solvent content can come with an added odour which can cause nausea and sickness. Alphateq Waterproofing would steer away from systems that have a strong odour as these can cause problems to people off site also. Some PMMA systems carry a very strong smell and impact on some installations.
Fire performance is an important standard that is important in modern construction projects. A BroofT4 accreditation is a typical standard of performance that should be available with any given system.
Some systems offer an anti-slump variation, and this enables detail and vertical work to be carried out more easily. This option is normally contained within a system as a whole and doing so reflects that the liquid system is comprehensive and self-contained. In essence, a one stop shop. Alphateq offers a fully approved total system.
Ease of application is important. If liquids are too stodgy or too thin, they can prove more difficult to apply. This can depend on the substrate. Alphateq's technical and site teams spend much time trialing and installing products on real roof situations. This gives hands on experience as to the suitability of Alphateq's liquids for construction projects in the UK.
Price is always a factor regardless of what anybody might say. All Alphateq's products are very high quality but are supplied at a price point that means a quality installation can be achieved at a competitive price.
The considerations above are some of the most common things to think about, be it a specifier or installer. Alphateq Waterproofing is committed to supplying the right product, to the highest standard at the most competitive price.