How To Repair A Flat Roof Leak With Mariseal 250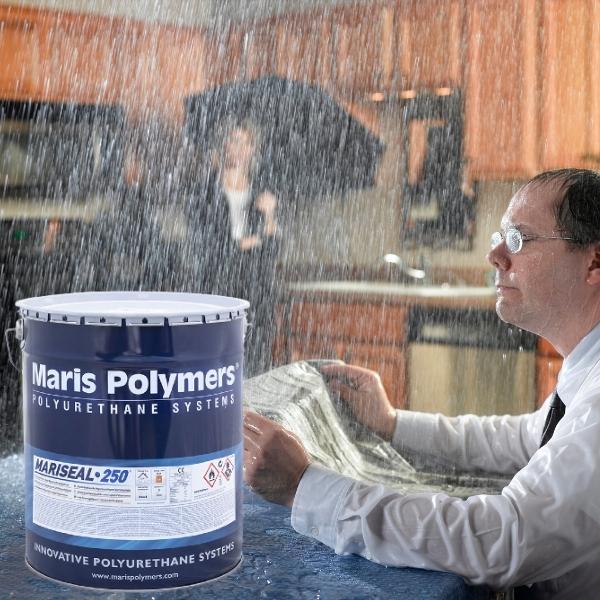 Liquid flat roofs are easy to repair if a client ensures that they use a reputable, authorized installer. It is sometimes an idea to request seeing an approved installers card or ask for references from previous clients. There are many liquid systems available. Some good, some not suitable for anything other than a short-term repair. It is vital that due diligence is undertaken when deciding on what liquid to use. Factors like cure time, smell, availability, and the skill of the installer can all have consequences if not suitable.
How To Identify Leak In A Flat Roof
Visual inspection by a skilled roofer is always the best place to start. Many clues exist just by looking at the substrate. Cracks, failed termination, impact damage and general wear and tear often give a good indication of where the problem lies. However, water can and does travel, and the area where the issue is affecting may not be the area where the ingress is occurring. Clever modern methods such as thermal imagery (1) and electronic testing give a more precise result of where the problem may be. But it is always advisable to begin with an experienced eye looking over the problem first.
Different Types Of Flat Roof Leak
These occur most often in the upstand areas where termination has failed. But also, in asphalt for example, in the field area where cracks may have been made worse by elements such as frost. Once identified these are relatively easy to fix providing the installer is trained and fully understands the system he is using. If the roof is felt or PVC it is most likely that the laps have begun to fail. Over the years the UV light can draw out the bonding agents from the laps and the joints become brittle and ultimately fail. This is often the time when a refurbishment of the roof is considered.
How To Repair A Leaking Flat Roof With Mariseal?
This varies depending on the substrate. But typically, it is very straightforward. Once identified, the repair area should be cleaned and abraded. Depending on the result of a peel test, a waterproofing primer should probably also be applied. This ensures a good bonding takes place when the liquid is applied. It is a good idea to encompass the area at least 200 mm around each perimeter edge of the repair as problem areas are probably already weak and a decent length of repair give more strength than just coating onto just the problem area. Upstand areas can be more problematic, but ultimately the same rules apply. Although some areas may need to be replaced or filled, in the case of asphalt.
How Long Does a Flat Roof Leak Repaired With Mariseal Last?
Once repaired the area if installed correctly will last the accredited life cycle of the product. In the case of Starflex Mono 100 up to 25 years. However, it is important to remember that repaired areas are seldom warranted as other areas may also be prone to leaking over the coming months. Often this results in a full refurbishment program being required.
Conclusion
Quality liquids are an ideal solution for repairs and/or full refurbishment. The site impact compared to installing a felt or asphalt system is greatly reduced and is much faster. The market share of liquid applied roof coating products is increasing. This is for good reason as there are numerous benefits. It is fast, safe, clean, cost effective, and once installed correctly, will not be as subject to failure as existing previous seamed systems.