Commercial Roofing: Why Liquid Is Your Best Choice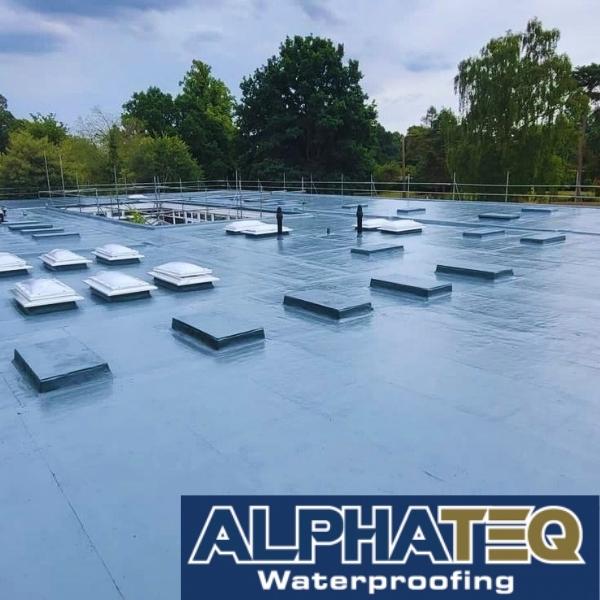 At Alphateq Waterproofing we firmly believe when the correct product is chosen liquid roofing is the best solution for a commercial roof. Whether for the refurbishment of an existing flat roof or the installation of a new roof, liquid coatings provide a number of advantages. All of which can give you better value for money, increase the lifespan of you commercial roof and reduce maintenance costs.
For this reason we strongly advise researching the available liquid coating products before committing to any commercial roofing projects. If you would like to explore the options when it comes to using a liquid roofing membrane on commercial buildings, one of our liquid roofing experts will be happy to assist. Just submit an enquiry through our contact form or give us a call on 01277 503 110.
Commercial Roofing Membrane Expertise
If you need to waterproof a roof on a commercial building, it's best to work with a waterproofing company with a wealth of experience across a range of different systems. Alphateq Waterproofing can assist you with your project regardless of your industry or facility type. We can provide roof surveys to the premises to identify any potential problems before you commit to any particular solution.
We have provided waterproofing solutions across the UK including in London, the South East, West Midlands and Manchester. This has involved retail, education, entertainment and industrial roofing. We're devoted to customer satisfaction, and we take pride in providing the correct waterproofing product for each unique situation.
Commercial Roofing Products Of An Exceptionally High Quality
Our clients can count on the quality of the commercial roofing products we use. Each has been thoroughly analysed by our experienced team. And then field tested by experienced commercial roofing contractors. When you come to us for information regarding your commercial roofing project, rest assured we'll provide you with evidence based expert advice. At Alphateq Waterproofing we will only recommend products which are truly really best for your unique needs.
There are a lot of nuances to choosing the correct coating for a commercial roofing project. These nuances need to be accommodate whilst complying with the project's budget. We'll inform you on all of of your options at various price points and advise you according to the particular demands your location and industry.
Choosing A Liquid Applied Membrane For Commercial Roofing
Many specifiers choose liquid applied membranes for commercial flat roofing because of the advantageous properties that this type of roofing offers. Amongst these the primary factors are reduced labor costs and the elimination of contractor risk. The reason for this is due to the ease of application and the technical support provided by the products supplier, the potential for poor installation is drastically reduced.
Unlike systems which require greater skill such as single ply and asphalt, the success of the waterproofing is not highly dependent upon finding quality commercial roofing contractors. Although we always recommend choosing a roofing contractor fully accredited by the system you select.
Commercial properties using a liquid membrane for their flat roof can benefit from the systems practical characteristics. Whilst also enjoy an attractive finish. You can enjoy an aesthetically pleasing seamless finish, this can even be coloured to match the businesses corporate identify. The lack of seams also means you will enjoy minimal maintenance demands of a flat commercial roof. And if anything does go wrong it will be easily put right with hardly any disruption.
Commercial Roofing Options Available
Carefully researching your options before investing in any commercial properties is essential. You'll want to learn about the pros and cons of a few types of commercial roofing systems before you commit to a specific waterproofing solution.
Liquid Commercial Roofing
Nowadays, liquid commercial roofing systems such as polyurethane liquid roofing are becoming an increasingly popular option. Liquid roofing offers a quick and convenient installation procedure. This type of roofing can be installed during any season. It is immediately waterproof upon installation.
Commercial properties which use liquid for their roofing can suffer practically no disruption at all. If you are trying to plan a commercial roofing project that won't interfere with your business operations, liquid commercial roofing is a fantastic option. Your facility won't have to be out of service for an extended period of time as it is a flame free application and can be installed quickly at any time of the year. Additionally, the best liquid coating solutions such as Starflex Mono 100 are low odour and come with superb elasticity.
The lack of odour is beneficial as it will not adversely affect any people in the surrounding area. And the elasticity makes it perfect for successfully withstanding the high thermal movement buildings in the UK are subjected to. This elasticity is often overlooked, but it can significantly reduce the probability of flat roof problems as the roof ages. An additional benefit is if later in the roofs service life you do need commercial roof repair work to be carried out, this will be cost effective with minimal disruption
Felt Commercial Roofing
For some commercial facilities, felt commercial roofing might be a good option. Felt roofing offers benefits such as the durability to stand up to regular walking on the roof.
A felt roof can last as long as 20 years and is particularly effective when it comes to standing up to UV ray damage (1). This makes felt commercial roofing a good option if you're in an area that gets an unusually high amount of sun exposure.
Putting a Felt Roof on a Commercial Building
When a felt roof is installed, it is typically fixed onto the roof surface through the use of a blow torch. A felt roof typically will involve three separate layers including a perforated underlay, a second underlay, and then a felt cap sheet.
Asphalt Commercial Roofing
Asphalt is also commonly used in commercial roofing installations. Asphalt offers advantages like effective waterproofing and the option of application over numerous possible substrate materials such as concrete, wood, and metal.
Putting an Asphalt Roof on a Commercial Building
To install an asphalt roof on your commercial structure, your roofing contractor will need to bring the temperature of the asphalt material to 104.4 degrees Celsius. Heating asphalt makes it more readily malleable so that it can be poured in place over the substrate of the roof.
After asphalt is placed over the roof, it must be sanded rubbed and then left to harden. Asphalt roofing can be rendered more resistant to UV damage through the application of a coat of solar reflective paint.
Get In Touch With Alphateq Waterproofing About Your Next Commercial Roofing Project
If you would like to discuss any aspect of a commercial roofing project please get in touch with us. Just let us know the details of your roofing project and we'll recommend the best option for your needs. You can call us on 01277 503 110 or submit your enquiry through the contact form on our website. One of our commercial roofing experts will get in touch with you right away.